Wedneday May 11th: While We're Still Here
Honoring Living Composers: The Music of Joni Mitchell and Carla Bley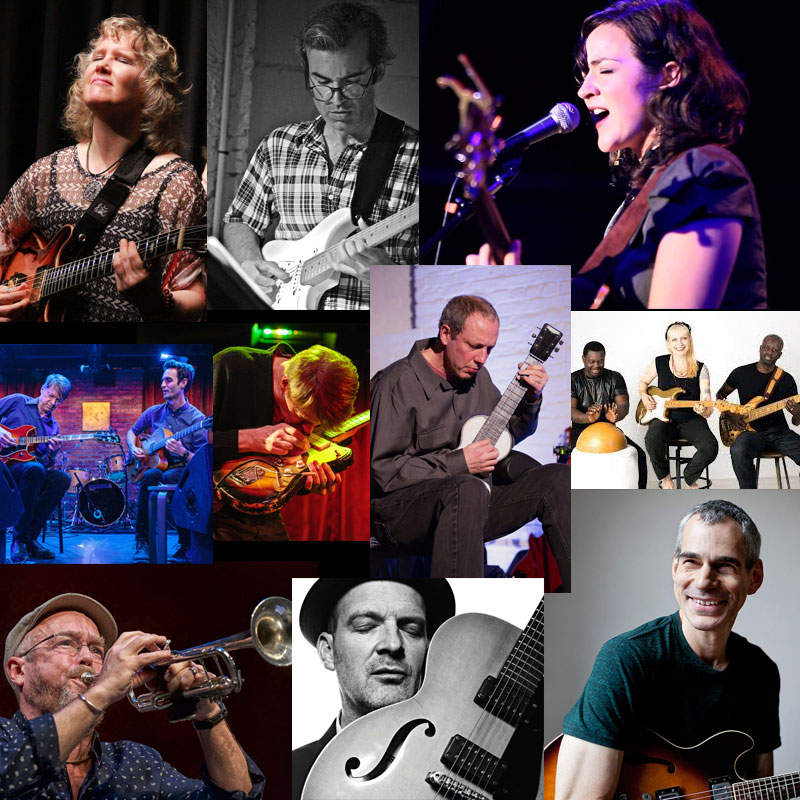 FEATURING: Nels Cline and Julian Lage, Dave Douglas with Camila Meza and Heather Masse, Ben Monder with Becca Stevens, Wolfgang Muthspiel Solo, Sheryl Bailey: Plucky Strum with Harvie S, Leni Stern: African Trio, Joel Harrison with Allison Miller and Jerome Harris, and Mike Baggetta with Jerome Harris and Billy Mintz.
These artists represent the guitar's enormous range, beyond style or genre. All these brilliant players will push past any perceived limits of the instrument with mind, heart, and soul. This program inaugurates what will be a yearly series honoring living composers. Eight improvising guitarists will perform one piece each by Joni Mitchell and Carla Bley.
Mitchell has traversed the borders of jazz, folk, and rock for fifty years. She has collaborated with many jazz musicians, including Charles Mingus, Jaco Pastorius, Pat Metheny, Wayne Shorter, Brian Blade, and Herbie Hancock. Bley, a prodigious big band composer, has written some of the most idiosyncratic, tuneful melodies of our time, songs that have been recorded by George Russell, Herbie Hancock, Jimmy Guiffre, Gary Burton, and Pat Metheny, and she has had an ongoing musical partnership with bassist Steve Swallow for decades. And- this date happens to be her birthday.
DETAILS:
Wednesday May 11th // 7:30-10:30PM // DROM // $20 adv. $25 door
85 Avenue A New York, NY
http://www.dromnyc.com
For more info see:
http://www.newyorkguitarfestival.org
http://www.facebook.com/alternative-guitar-summit
---
ARTIST BIOS:
Nels Cline and Julian Lage: Two guitar masters spanning generations.
Website: nelscline.com
Dave Douglas w/ Camila Meza: One of the most influential composers and jazz musicians of the past 20 years, Dave released a CD of Joni Mitchell songs in 1997 entitled Moving Portraits. He will be joined by singer Heather Masse of the Wailin' Jennys, and bright, new talent Camila Meza on voice and guitar. Meza was described by the NY Times as "a multi-dimensional talent….who plays hyper-literate guitar solos while combing modern jazz with the folk music of her native Chile."
Website: davedouglas.com
Wolfgang Muthspiel: Noted for the lyricism of his approach to jazz guitar, Vienna native Muthspiel is one of the most celebrated European improvisers. He has recorded with Ralph Towner and Brian Blade, and he began his career in Gary Burton's band, where he replaced Pat Metheny.
Website: http://www.materialrecords.com/content_en/artist_wmuthspiel.asp
Sheryl Bailey: Called a "sizzling guitar goddess" by All About Jazz, and "one of the new greats" by Downbeat, Bailey is one of the most compelling bebop players of her generation. She'll perform with bassist Harvey S.
Website: sherylbailey.com
Leni Stern: Stern was awarded best female jazz guitarist five years in a row by Gibson guitars. Over the years she has integrated the traditions of Mali and Senegal into her sound. She will perform with her African trio.
Website: lenistern.com
Joel Harrison:The Guitar Summit founder will front a quartet that features drummer Allison Miller and bassist Jerome Harris. Harrison has released 17 cds over the past twenty years with ensembles that range from 19 piece big band to jazz/rock trio, to string quartet and two guitars.
Website: joelharrison.com
Ben Monder: (See above) He'll be joined by vocalist Becca Stevens.
Mike Baggetta: with drummer Billy Mintz and bassist Jerome Harris. Baggetta is known for seamlessly and organically incorporating live sampling in his music. Ben Ratliff of the New York Times says "…that he's trying to do something personal with collective improvisation without ever getting in the way of beauty."
Website: mikebaggetta.com
---
ARTIST VIDEOS: