May 10th: Guitar and Electronics Workshop With Elliot Sharp and David Torn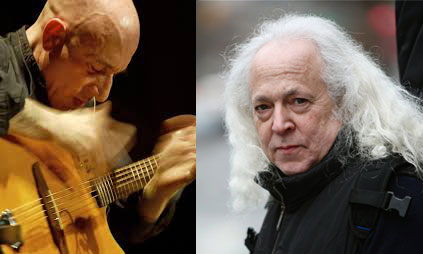 TUESDAY MAY 10th // 7-9PM
Dorothy Hirshon Suite, Arnhold Hall
55 West 13th Street, Room I205, New York, NY
(view map)
Torn and Sharp will delve into the many methods they use to produce fantastic and unusual sounds on the guitar, discussing technique, concept, composition, and electronic frontiers.
Websites:
http://www.davidtorn.net
http://www.elliottsharp.com
---
May 14th: Becoming a complete guitarist with Wolfgang Muthspiel, Sheryl Bailey, and Ed Maceachen

SATURDAY MAY 14th // 10:30am – 12:20pm
Anna-Maria and Stephen Kellen Auditorium, Sheila C. Johnson Design Center
66 Fifth Avenue New York, NY
(view map)
Muthspiel, Bailey, and Maceachen will demonstrate how to develop a widespread guitar vocabulary that will allow players to operate in multiple genres. While jazz vocabulary will be a focus, we'll also discuss their usage of classical, W. African, and rock techniques.
Websites:
https://www.facebook.com/wolfgang.muthspiel
http://www.sherylbailey.com
---
TICKET INFORMATION
$25 per class, $40 for both. Students free.
The preferred method to purchase master class tickets is via PayPal using the following email: jmhacc57@gmail.com.
To use this method, CLICK HERE and enter either $25 (for one masterclass) or $40 (for both). If you are only attending one masterclass, please enter the date of the masterclass you plan on attending in the box that says "Special instructions to seller" when you login to PayPal.
If you do not use PayPal, you can purchase tickets at the event on a first come/first serve basis.
---
CLICK HERE for the Masterclasses Archive