Honoring Danny Gatton / May 24th 2017 at Joe's Pub in NYC
May 24th 2017 // Joe's Pub NYC // $20 adv. $25 door
"Danny could hear something the other guy did and do it better, no matter who it was…he was the best."
– Les Paul (from The Humbler trailer)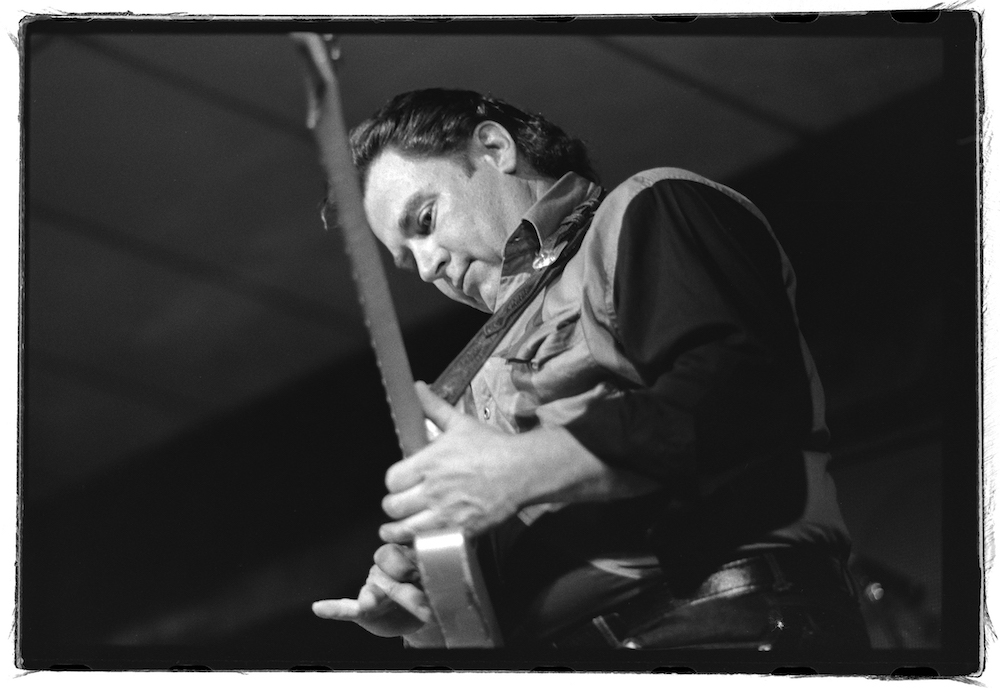 Danny Gatton (1945-1994) was a legendary Washington D.C.- based guitarist who was often called the greatest unknown player in the world. A guitarist's guitarist, he was an encyclopedia of American styles, jazz, rockabilly, blues, country, and rock n' roll, a virtuoso of the highest order who yet remained humble and true to his roots. Gatton counted as his admirers Vince Gill, James Burton, Mike Stern, Les Paul, and Russell Malone. These are the first NYC concerts to honor Gatton since the memorial shows that were held after his death in 1995 at Tramps. Summit founder Joel Harrison grew up listening to Gatton in DC clubs.
Six guitarists will perform the Danny Gatton repertoire. In keeping with the Guitar Summit's mission to foster daring and inventive approaches, curator Joel Harrison has invited both the old and new to perform. A mixture of Gatton allies from the D.C. area will combine with cutting-edge New York mavericks. Of special note is the appearance of longtime Gatton band mates John Previti and Barry Hart. This occasion will mark the NYC debut of the Anacostia Delta band featuring a frontline of three Telecasters (Chappell, Pirog, Harrison) propelled by Previti and Hart.
Alternative Guitar Summit 2017 Celebrates Pat Metheny 3/10
Friday March 10th, 2017 // 6:30PM // Le Poisson Rouge // $25
Each year we honor a living composer in our "While We're Still Here" series. 2017's honoree is Pat Metheny. Metheny is celebrating the release of a book of 150 of his compositions. Seven acts will perform 14 of those pieces. Joel Harrison will interview Metheny on stage before the show. Music performed by Nels Cline Trio (Gerald Cleaver and Jorge Roeder), Liberty Ellman and Miles Okazaki Quartet (w/ Damion Reid and Stephan Crump), Rez Abbasi Trio (with Michael Gam and Samir Gupta (tabla), Joel Harrison String Choir (w/ Christian Howes, Zach Brock, Tanya Kalmanovich, Hank Roberts and Liberty Ellman, Nir Felder Trio (with Matt Penman and Nate Wood), Mike Moreno Trio (with Doug Weiss and Kendrick Scott) and Camila Meza.
---
Solo Voices and Communal Raptures
March 11th 2017 8pm // Club 151 Nublu // 151 Avenue C, NYC // $20
Solo Voices and Communal Raptures
Nels Cline Solo
John Schott Trio
Rafiq Bhatia Collective with Marcus Gilmore and Rahsaan Carter
Adam Rudolph's Go Organic Guitar Orchestra: feat. Rez Abbasi, Kenny Wessel, Jerome Harris, Miles Okazaki, Nels Cline, Joel Harrison, Liberty Ellman, David Gilmore, Damon Banks, Marco Cappelli and more
---
Guitars of Heaven, Guitars of Hell
Wednesday, March 15th 2017 // NATIONAL SAWDUST // $25
1. Dither Guitar Quartet: New Music for the occasion, composers TBA.
2. Steve Mackey and Jason Treuting: excerpts from a new guitar opera entitled "Orpheus Unsung."
3. The debut of The Resophonic Guitar Orchestr a led by Joel Harrison, with Elliot Sharp, Brandon Ross, Dither, Dave Tronzo, and more. New music for multiple National Steel resophonic guitars in a piece entitled "Blind Willie Johnson Rising."
4. Steven Bernstein (trpt) – New music with Dave Tronzo, Steve Cardenas, ans speical guest- An intimate conversation between Bernstein and 3 iconic and legendary guitarists. Inspired by his 8 years playing the Midnight Rambles in Levon Helm's barn, this unique ensemble will visit original compositions, as well as pieces by Ellington, Monk, the Band, the Grateful Dead and Allen Toussaint.
More info:
Each of these acts is a stand out, deliciously unique in the world of new music, improvisation, and guitar- but together they make a formidable bill.
Steve Mackey is the foremost classical composer for electric guitar in classical settings worldwide. 30 years ago he took his roots in prog rock, got himself a phd, and began writing compositions that have subtly altered the 21st century music landscape. He is a fantastic player as well, and his "guitar opera" covers a huge amount of sonic, textural, and harmonic ground. Add one of the most celebrated percussionists of our day, Jason Treuting (from So Percussion Quartet) and you have a great duo.
Dither Quartet has, like Mackey, altered the landscape for electric guitar. Dither is the only group of its kind. With youthful enthusiasm they've commissioned numerous works that showcase the astonishing variety of sounds the guitar is possible of. This concert is special though. They are playing a seldom heard piece by the "godfather" of alternative guitar, Fred Frith. Fred basically began what many of us are now doing back in the early 70's.
Joel Harrison's Resophonic Guitar Orchestra: A resophonic guitar is most often made of steel. It has a cone in the body that acts almost like an amplifier. I fell in love with this unique brand of guitar years ago, listening to the old blues masters like Son House and Willie Johnson. I began to imagine the sound that a large number of them would make. They are soulful instruments, able to cry and wail, amazing creations, and we plan to conjure not only the ghosts of the past but create visions of the future. We'll bang on them caress them, slide along them…Elliott Sharp will contribute with a composition and the other players are pure magic, the best there is- Dave Tronzo (greatest jazz slide master in America), Brandon Ross (from Harriet Tubman, Cassandra Wilson, Henry Threadgill), members of Dither and more.
Steven Bernstein (trpt)- Steve Bernstein is one of the most vibrant, charismatic, and creative individuals in recent jazz history. Whenever he shows up, people begin to smile. Steve says that he wanted to create the feeling of a bunch of guitarists sitting around in a circle intimately jamming, and that he then would become the lead singer with the trumpet. With these guitar players it will be a heavenly tapestry. Tronzo and Cardenas are amongst the most respected players of their generation having played with countless acts such as Charlie Haden, Paul Motian, Paul Simon, and John Hiatt. We can't name one of the guitarists due to pr restrictions but we can say he spent a lot of time with Bob Dylan. We hope that is enough to get you in the door!
---
Links:
http://joelharrison.com
http://stevenmackey.com
http://www.elliottsharp.com
http://www.stevenbernstein.net
http://ditherquartet.com
https://www.reverbnation.com/brandonross
Beauty and Noise
Electronic Frontiers, Sonic Rapture, Wild, Mysterious Textures Rarely Imagined
Monday May 9th // 7PM // National Sawdust Brooklyn // $25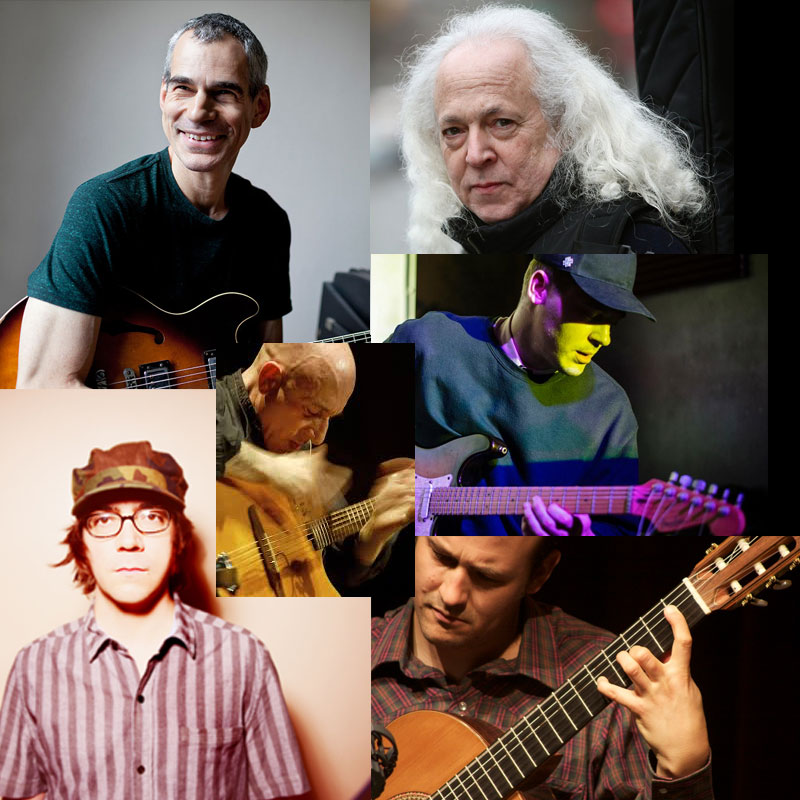 FEATURING: David Torn, Dither Guitar Duo, Elliot Sharp, Anthony Pirog, Ben Monder, and Patrick Higgins
MORE INFOGET TICKETS
While We're Still Here
Honoring Living Composers: The Music of Joni Mitchell and Carla Bley
Wednesday May 11th // 7:30-10PM // DROM NYC // $20 adv // $25 door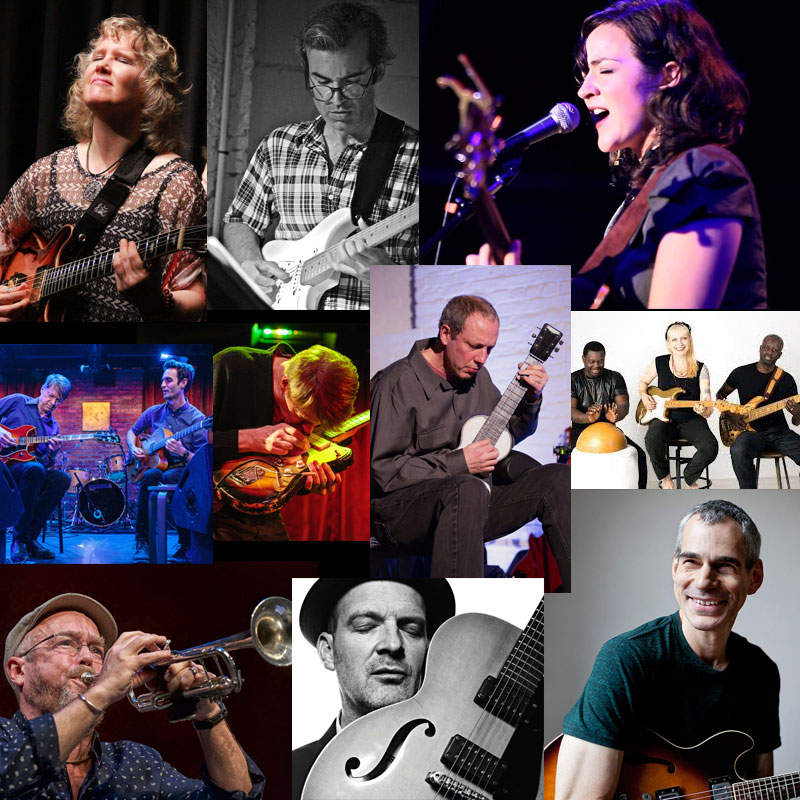 FEATURING: Nels Cline and Julian Lage, Dave Douglas with Camila Meza and Heather Masse, Ben Monder with Becca Stevens, Wolfgang Muthspiel Solo, Sheryl Bailey: Plucky Strum with Harvie S, Steve Cardenas Trio, Joel Harrison and Everett Bradley, with Allison Miller and Jerome Harris, and Mike Baggetta with Jerome Harrison and Billy Mintz.
MORE INFOGET TICKETS
---
Alternative Guitar Summit 2016 Master classes
Tuesday May 10th // 7-9 pm
Guitar and electronics workshop with Elliot Sharp and David Torn
Dorothy Hirshon Suite, Arnhold Hall
55 West 13th Street, Room I205, New York, NY
LEARN MORE
Saturday May 14th // 10:30 am – 12:30 pm
Becoming a complete guitarist with Wolfgang Muthspiel, Sheryl Bailey, and Ed Maceachen
Anna-Maria and Stephen Kellen Auditorium, Sheila C. Johnson Design Center
66 Fifth Avenue New York, NY
LEARN MORE
$25 per class, $40 for both. Students free.
The preferred method to purchase master class tickets is via PayPal using the following email: jmhacc57@gmail.com.
To use this method, CLICK HERE and enter either $25 (for one masterclass) or $40 (for both). If you are only attending one masterclass, please enter the date of the masterclass you plan on attending in the box that says "Special instructions to seller" when you login to PayPal.
If you do not use PayPal, you can purchase tickets at the event on a first come/first serve basis.
Annual "New Generations" Show
Saturday 10/24/15 at 8:30 PM
Jason Miles
Tal Yahalom
Andy Berman
IBeam
Stay tuned for announcement of Alternative Guitar Summit Concerts 2016!
---
PAST CONCERTS

Wednesday 2/4/15 at 7:30 PM
Anders Nilsson & Aaron Dugan
Marco Capelli & James Ilgenfritz
Ava Mendoza & Chris
Shapeshifter Lab

Friday 2/6/15 at 7 PM
Gyan Riley & David Cossin (perc.)
Prasanna (solo)
South Indian music meets modern jazz
David Fiuczynski Planet MicroJam trio
Rockwood Music Hall

Saturday 2/7/15 at 7 PM
Lee Ranaldo (solo; of Sonic Youth)
Adam Rudolph's Go (Organic 10 Piece Guitar Orchestra)
Rockwood Music Hall

Sunday 2/8/15 at 7 PM
Doug Wamble & Mino Cinelu (perc.)
Joel Harrison & Glenn Patscha (keyboard)
Adam Levy & Sheryl Bailey (guitar)
Michael Gregory Jackson (guitar & voice) & Keith Witty (bass)
Rockwood Music Hall
---
Concert Details & Artist Bios
---
Alternative Guitar Summit Concert 1: Wednesday, 2/4/15 at 7:30 PM


Artist Bios
Anders Nilsson & Aaron Dugan – Hot and Cold
Fusing their common love of improvisation and composition in Hot & Cold, guitarists Anders Nilsson and Aaron Dugan create musical layers that transgress denominations and -isms and embrace the universe's constant mandate to create anew. "Our musical process is a total democracy with lots of fun sessions bouncing ideas back and forth. And, we share the same birthday, 6/20!"
Marco Capelli & James Ilgenfritz – Unplugged
Unplugged Duo is Marco Cappelli (classic guitar) and James Ilgenfritz (double bass). The Duo join their mutual creativity and large range of musical experience to explore a repertoire from different folk traditions, with a simple and deep commitment: every deviance through improvisation is possible, and no electronic device is admitted.
Ava Mendoza & Chris Corsano
Ava Mendoza (listen on SoundCloud) is new on the NYC scene from the Bay Area. She became known to Harrison through rave reviews from Fred Frith and Nels Cline. Enough said!
---
Alternative Guitar Summit Concert 2: Friday, 2/6/15 at 7 PM


Artist Bios
Gyan Riley and David Cossin
Guitarist Gyan Riley (Dither, Terry Riley) transcends genre with his unique, soulful approach to the nylon string guitar. David Cossin is one of tne most sought after, wide-ranging percussionists in the country having performed with countless new music ensembles such as the Bang On a Can Allstars.
Prasanna (solo): South Indian music meets modern jazz
Prasanna is a pioneer in performing South Indian Carnatic music on the guitar. He is part of a trio with Vijay Iyer entitled Tirtha (listen).
David Fiuczynski Planet MicroJam Trio: with Adam Matta – beat boxer, vox, mouth bone, real time sonic manipulations and Utar Artun-microtonal keyboards (listen). David Fiuczynski (fretted and fretless guitars) is the director of the Planet MicroJam Institute at Berklee College of Music, a 2011 Guggenheim fellow and moonlights as the leader of the Screaming Headless Torsos. Adam Matta is a Grammy nominated (w/The Carolina Chocolate Drops) beatboxer/vocal percussionist from NYC, merging hip-hop, house, drum n' bass, jazz, Middle Eastern and rock. Utar Artun is an emerging force from Turkey, a microtonal keyboard player who is also a percussionist that writes symphonic suites and tone poems. "New musical ideas are on the horizon at the crossroads of new beats, microtonal harmonies, and Eastern melodic inflections and improv concepts.
---
Alternative Guitar Summit Concert 3: Saturday, 2/7/15 at 7 PM


Sonic Youth has had an enormous impact on countless indie rock bands and new music improvisers over the past thirty years. A main ingredient of their sound was the new, bracing, textural elements that Lee and Thurston Moore brought to the forefront of their songs. They posited the guitar (much like Hendrix, or Frith) as an instrument with an almost unlimited potential.Adam Rudolph's guitar orchestra brings forth new textures and sound worlds as well. This collection of top-notch improvisers will bring listeners a garden of sonic delights guided by Rudolph, from psychedelic soundscapes, to intimate duos, to walls of unearthly wails, to hypnotic layers of groove.
Artist Bios
Lee Ranaldo Solo (Sonic Youth)
Lee Ranaldo has had a huge influence on the alternative rock scene through his 30 years with the seminal band Sonic Youth. His first solo recording, "Between the Times and the Tides", was released in 2013. This is a rare solo show.
Adam Rudolph's Go: Organic Guitar Orchestra
Featuring Damon Banks, Marco Capelli, Tomas Doncker, Liberty Ellman, David Gilmore, Joel Harrison, Jerome Harris, Miles Okazaki and Kenny Wessel. Adam Rudolph's Go: Organic Guitar Orchestra is a 21st century vision of a kind of future orchestra: an original orchestral concept of world music improvisation started by Rudolph in 2001. Since then he has taught and improvisationally conducted hundreds of musicians in both Europe and the United States. The music is composed as thematic material that provides a spontaneous orchestral context and inspiration for improvisational dialogue. The multicultural dynamic of Go: Organic Orchestra expresses a creative vision of a world without boundaries: of culture as the vessel for human understanding, empathy and sharing.
---
Alternative Guitar Summit Concert 4: Sunday, 2/8/15 at 7 PM


Artist Bios
Doug Wamble (guitar & voice) & Mino Cinelu (percussion)
A native of Memphis, TN, Doug Wamble has always been fascinated by the intertwining of American music styles, and how those blues fundamentals stretch across the musical divide in the U.S., but also across the globe. "Mino Cinelu has long been a musical hero of mine because he can step into any groove, any time, any place, and bring something special to it." Artists from Sting to Miles Davis to Kate Bush have employed Mino's talents as a drummer and percussionist, and Wamble has played with everyone from Wynton and Branford Marsalis, to Cassandra Wilson and Norah Jones. This special and rare duo performance of songs and improvisations promises to be a magical event.
Joel Harrison (guitar & voice) w/Glenn Patscha (keyboard)
Joel Harrison, though best known for his instrumental prowess, has written and sung songs his whole life. He will debut a new songwriting project, which is a compendium of American sounds, styles, and geographies.
Adam Levy (guitar & voice) w/Sheryl Bailey (guitar)
This guitar duo will be reinterpreting several of the tunes from Levy's recent 'Town & Country' CD—an instrumental travelogue.
Adam Levy is best known for his tenure in Norah Jones' Handsome Band (2001–2007), though his diverse career has also included music making with Joey Baron's Killer Joey, Tracy Chapman, Trevor Dunn's Trio Convulsant, and Rosanne Cash, Sex Mob, and Ani DiFranco.
Sheryl Bailey has released nine critically acclaimed releases as a leader and has toured the world with her many projects. She has worked alongside Richard Bona, David Krakauer's Ancestral Groove, Abraham Inc., Irene Cara, George Garzone, Jack Wilkins, Shingo Okudaira, Steve Slagle, Harvie S, Ken Peplowski, Kim Plainfield, and Gary Thomas.
Michael Gregory Jackson (guitar & voice) & Keith Witty (bass)
One of the most influential and innovative guitarists to emerge during NYC's avant-garde loft scene in the 70s, Michael Gregory Jackson has embraced everything from avant-garde, creative music, jazz, blues, rock and electronica soundscapes to harmonically rich and lyrically deep vocal tunes. Rolling Stone Magazine called Jackson, "the most original jazz guitarist to emerge since the sixties."